Thie is the list of several events and explanatory meetings for the users and future users who plan to use our systems.
Please register yourself from each event/eplanatory meeting page.
Event / Explanatory meeting in the past
You can take a look at the list of Event / Explanatory meeting held in the past.
Schedule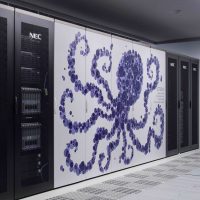 link
Orientation for Supercomputer "OCTOPUS"
Date: Jun 14, 1:30 p.m. - 3:30 p.m.
6月14日(木)に新スーパーコンピュータ「OCTOPUS」の利用説明会を開催いたします。
「OCTOPUS」は、汎用CPUノード群、GPUノード群、Xeon Phiノード群、大容量主記憶搭載ノード群、大容量ストレージから構成され、総理論演算性能1.463 PFLOPSを有するスーパーコンピュータです。
本説明会では、「OCTOPUS」のハードウェア構成、ソフトウェア構成、ならびにその利用方法について、導入業者であるNECのエンジニアが解説するほか、利用負担金制度や申請方法について当センターの担当者が解説します。