Study on Double-sided Polishing Process of Large-diameter Silicon Wafers for Improving Global Flatness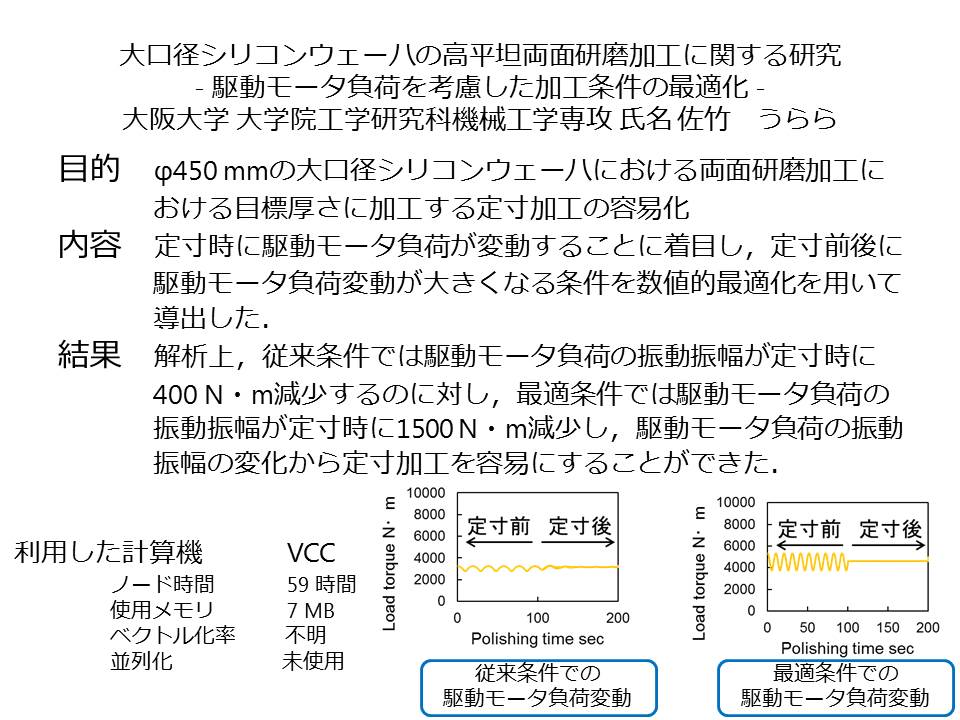 Authors:
Urara SATAKE
Affiliation:
Department of Mechanical Engineering, Graduate School of Engineering, Osaka University
Abstract:
φ450 mmの大口径シリコンウェーハにおける両面研磨加工における目標厚さに加工する定寸加工の容易化を目的として,定寸時に駆動モータ負荷が変動することに着目し,定寸前後に駆動モータ負荷変動が大きくなる条件を数値的最適化を用いて導出した.結果として,解析上,従来条件では駆動モータ負荷の振動振幅が定寸時に400 N・m減少するのに対し,最適条件では駆動モータ負荷の振動振幅が定寸時に1500 N・m減少し,駆動モータ負荷の振動振幅の変化から定寸加工を容易にすることができた.
Publication related to your research:
(International conference paper)
Urara Satake, Toshiyuki Enomoto, Keitaro Fujii and Kenji Hirose, "Optimization method for double-sided polishing process based on kinematical analysis", Proceedings of 48th CIRP Conference on MANUFACTURING SYSTEMS, pp.870-874, Jun. 2015.
Urara Satake, Toshiyuki Enomoto, Kenji Hirose and Keitaro Fujii, "Analytical study on double-sided polishing process of 450 mm silicon wafers for improving global flatness", Proceedings of the 8th International Conference on Leading Edge Manufacturing in 21st Century, No. 1008, Oct. 2015.
---
Posted : March 31,2016