Reaction analyses based on quantum theory for functional materials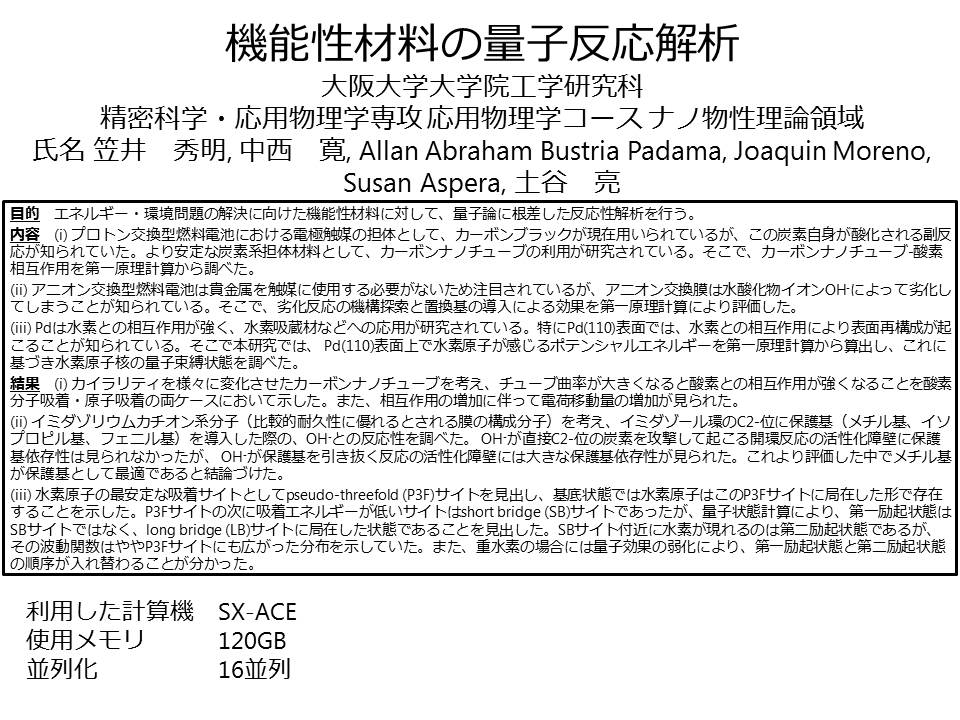 Authors:
Hideaki Kasai, Hiroshi Nakanishi, Ryo Tsuchitani, Allan Abraham Bustria Padama, Joaquin Moreno, Susan Aspera
Affiliation:
Department of Applied Physics, Graduate School of Engineering, Theoretical Materials Science Area
Abstract:
エネルギー・環境問題の解決に向けた機能性材料に対して、量子論に根差した反応性解析を行う。
プロトン交換型燃料電池における電極触媒の担体として、カーボンブラックが現在用いられているが、この炭素自身が酸化される副反応が知られていた。より安定な炭素系担体材料として、カーボンナノチューブの利用が研究されている。そこで、カーボンナノチューブ-酸素相互作用を第一原理計算から調べた。アニオン交換型燃料電池は貴金属を触媒に使用する必要がないため注目されているが、アニオン交換膜は水酸化物イオンOH-によって劣化してしまうことが知られている。そこで、劣化反応の機構探索と置換基の導入による効果を第一原理計算により評価した。Pdは水素との相互作用が強く、水素吸蔵材などへの応用が研究されている。特にPd(110)表面では、水素との相互作用により表面再構成が起こることが知られている。そこで本研究では、 Pd(110)表面上で水素原子が感じるポテンシャルエネルギーを第一原理計算から算出し、これに基づき水素原子核の量子束縛状態を調べた。
Publication related to your research:
Allan Abraham B. Padama, Hiroshi Nakanishi, Hideaki Kasai, "Quantum states of hydrogen atom on Pd(1 1 0) surface", Applied Surface Science, Vol.359, pp.687-691, Dec. 2015.
Joaquin Moreno, Susan Aspera, Melanie David, Hideaki Kasai, "A computational study on the effect of local curvature on the adsorption of oxygen on single-walled carbon nanotubes", Carbon, Vol.94, pp.936-941, Nov. 2015.
Ryo Tsuchitani, Hiroshi Nakanishi, Hideyuki Shishitani, Susumu Yamaguchi, Hirohisa Tanaka, Hideaki Kasai, "A theoretical study of how C2-substitution affects alkaline stability in imidazolium-based anion exchange membranes", Solid State Inonics, Vol.278, pp.5-10, Oct. 2015.
---
Posted : March 31,2016