Simulation of Electromagnetic Waves in a Photonic Crystal Cavity Resonator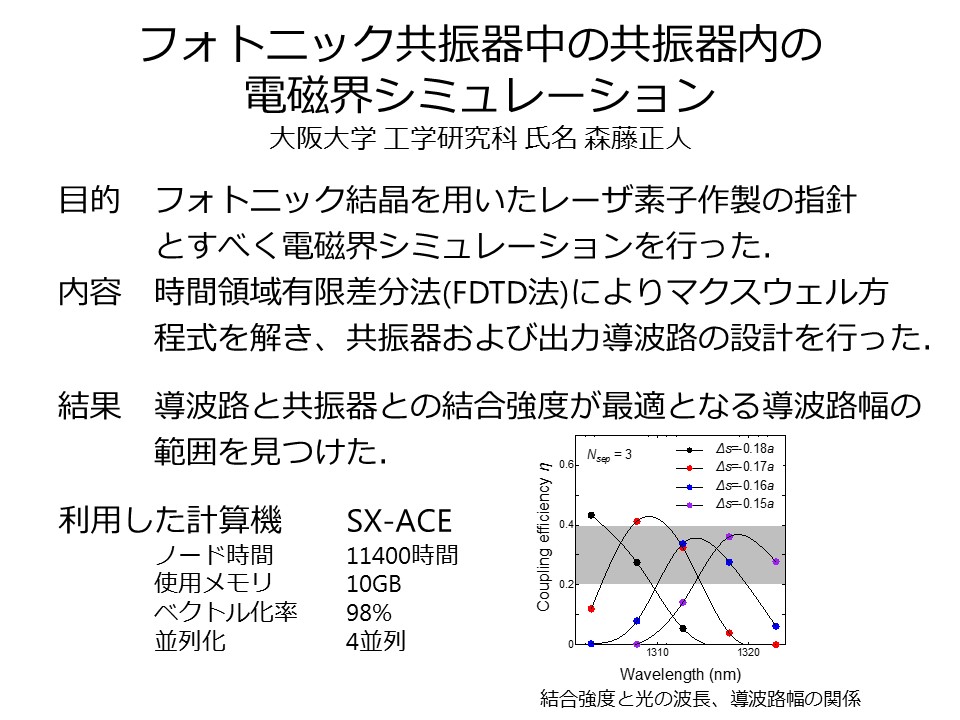 Authors:Masato Morifuji
Affiliation:Division of Electrical, Electronic and Information  Engineering, Graduate School of Engineering, Osaka University
Abstract:目的 フォトニック結晶を用いたレーザ素子作製の指針とすべく、様々なフォトニック構造について電磁界シミュレーションを行い最適構造を探った.特に、大面積でありながら強い光閉じ込め性能を示す円形共振器とそこから光を取り出すための導波路との光結合強度について詳細に調べた。
概要 時間領域有限差分法(FDTD法)により、円形共振器内で生じた光が導波路を通して領域外へと移動していく様子をシミュレーションし、導波路幅、共振器半径等の構造パラメータに対して結合強度がどのように変化するかを調べた。
  結果 導波路と共振器との結合強度に関する知見は、光多重通信と呼ばれる単一の導波路に複数の共振器を結合させる技術の基礎となるものである。本研究により一つの導波路に対して10個程度の共振器をつなぐことができることが分かった。この成果により、従来のものより小型で高性能な光多重通信素子作製の可能性を示すことができた。
Publication related to your research
(Journal paper)
Y. Miyamoto, Y. Xiong, T. Okada, M. Morifuji, H. Kajii and M. Kondow,
"Optical Coupling Characteristics between a Circular Defect Resonator and a Waveguide in a Two-Dimensional Photonic Crystal Slab", Photonic and nanostructures – Fundamentals and Applications - (投稿中).
(International conference paper)
Y. Miyamoto, M. Morifuji, H.Kajii and M. Kondow, "Coupling efficiency
between a circular defect (CirD) resonator and a waveguide in 2D slab
photonic crystal " The 36th Electronic Materials Symposium, We1-2,
Nagahama, Japan, Nov. 8, 2017.
西村 智也,森藤 正人, 梶井 博武,丸田 章博,近藤 正彦「キャリア拡散を
考慮したレート方程式を用いた円型欠陥フォトニック結晶レーザの特性解析」
第64回 応用物理学関係春季学術講演会, 横浜, 2017年 3月.
---
Posted : March 01,2018