Estimation of Propagation Characteristics for Wireless Avionics Intra-communications System for Aircraft of Next Generation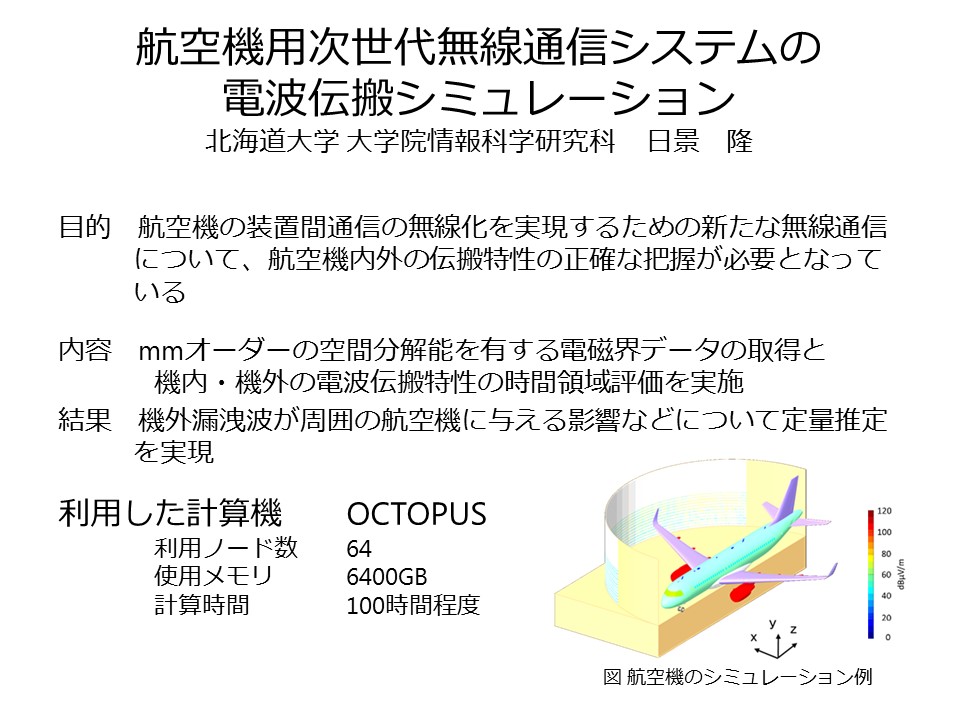 Authors:Takashi Hikage
Affiliation:Graduate school of Information Science & Technology, Hokkaido University
Abstract:航空機の運用コスト低減や非常用照明や気圧センサーなど各種センサーの高機能・高性能化などを目的とし,現航空機で用いられている膨大なワイヤーハーネスを無線により代替する新たな無線通信規格(WAIC)が検討されている.本研究では,大規模数値シミュレーションを用いることにより,WAICシステムの機内外における伝搬特性についてmmオーダーの空間分解能で電界強度分布の評価を実現した.
Publication related to your research
(Journal paper)
Shunichi Futatsumori, Kazuyuki Morioka, Akiko Kohmura, Naruto Yonemoto, Takashi Hikage, Tetsuya Sekiguchi, Manabu Yamamoto, Toshio Nojima: "Analysis of Radio Altimeter Interference due to Wireless Avionics Intra-Communication Systems by Using Large-Scale FDTD Method - Investigation on Airbus A320 Class Passenger Aircraft -," APPLIED COMPUTATIONAL ELECTROMAGNETICS SOCIETY JOURNAL, Vol. 34, No. 2, pp. 365-368, Feb. 2019.
(International conference paper)
Tetsuya Sekiguchi, Masakazu Yamagishi, Takashi Hikage, Keita Sakakibara, Toshio Nojima, "Numerical Estimation of Indoor Propagation Characteristics for Microwave Wireless Power Transfer", 2018 Asian Wireless Power Transfer Workshop (AWPT 2018), SA-5-O1, Nov. 2018.
---
Posted : March 29,2019