Prediction of NOx production with hydrogen–air nonpremixed combustion in mixing layers by DNS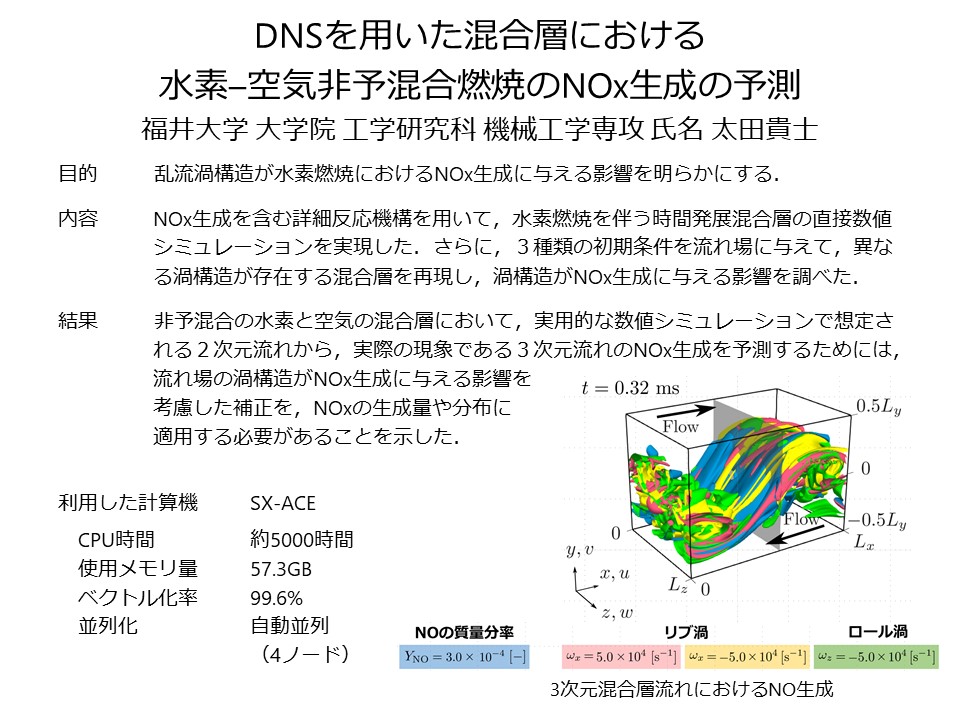 Authors:Takashi Ohta
Affiliation:University of Fukui
Abstract:NOx生成を含む詳細反応機構を用いて,水素燃焼を伴う圧縮性混合層のDNSを実現した.さらに,3種類の初期条件を流れ場に与えて,異なる渦構造が存在する混合層を再現し,渦構造がNOx生成に与える影響を調べた.その結果,非予混合の水素と空気の混合層において,実用的な数値シミュレーションで想定される2次元流れから,実際の現象である3次元流れのNOx生成を予測するためには,流れ場の渦構造がNOx生成に与える影響を考慮した補正を,NOxの生成量や分布に適用する必要があることを示した.
Publication related to your research
(Journal paper)
Takashi Ohta, Daiki Eguchi and Akihiro Hayashi, "Calibration and evaluation of a spatial scaling method for the near-wall turbulent flow of viscoelastic fluids", Journal of Turbulence, Vol.21, No.11, pp.607-631, Sep. 2020.
Takashi Ohta, Takafumi Ichiyanagi and Taisei Tanaka, "Direct numerical simulation of solidifying liquid turbulence using the phase-field model", Mechanical Engineering Letters, Vol.6, pp.20-00327, Nov. 2020.
(Domestic conference/workshop)
平田 椋大,太田 貴士,"水素燃焼混合層における渦構造がNOx生成に与える影響",日本流体力学会 年会 2020, Sep. 2020.
田中 大誠,太田 貴士, "フェーズフィールド法を用いた液体乱流の凝固組織成長と乱流変調のメカニズム解明", 日本流体力学会 年会 2020, Sep. 2020.
林 晃弘,太田 貴士, " DNS による粘弾性流体およびニュートン流体乱流のための時間スケーリング法の導出", 流体工学シンポジウム(第66回北陸流体工学研究会), Dec. 2020.
北川 雄太,太田 貴士,大坂 文哉, "乱流クエット流れにおいて渦キャビテーションが引き起こす乱流変調と壊食の予測", 第34回数値流体力学シンポジウム, Dec. 2020.
白畑 風太郎,太田 貴士, "小径円柱周り軸方向流れで維持される乱流構造の観察", 日本機械学会 北陸信越支部 第58講演会, Mar. 2021.
---
Posted : March 15,2021