Elucidating life-threading arrhythmias and establishing arrhythmia control methods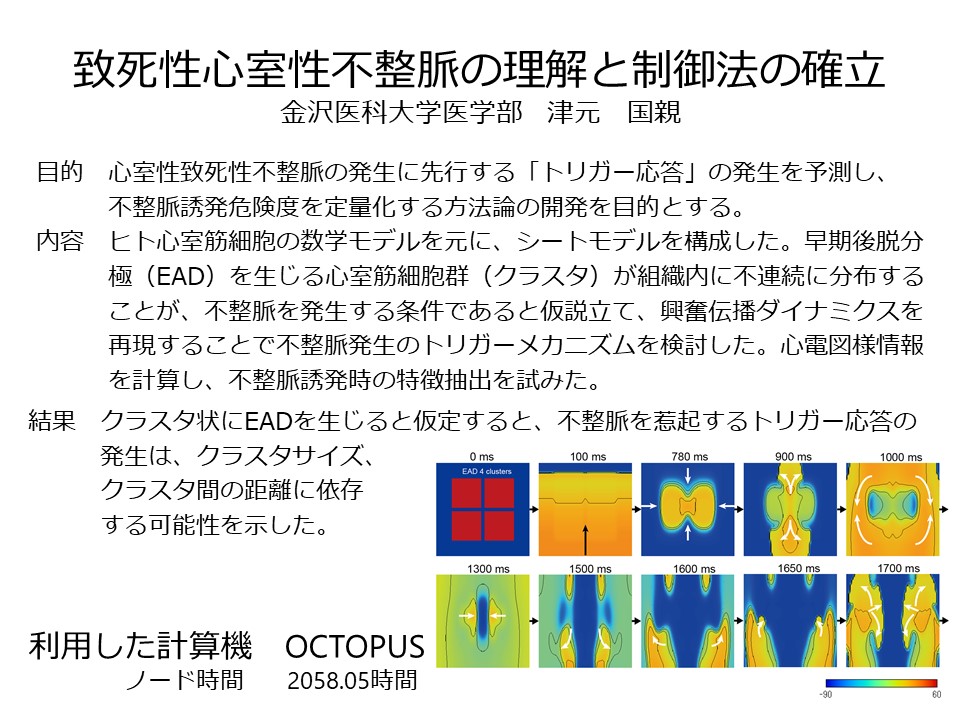 Authors:Kunichika Tsumoto
Affiliation:Kanazawa Medical University
Abstract:心室性致死性不整脈の発生には、先行するトリガー応答が発生することが知られている。そこで、トリガー応答の生成メカニズムを明らかにし、不整脈誘発危険度を定量化することで、不整脈の発症予防・制御の方法論の開発を目的とした。ヒト心室筋細胞の数学モデルを元に、6 × 6 cmの心筋シートモデルを構成した。早期後脱分極(Early afterdepolarization: EAD)として知られる再分極異常を生じる心筋細胞群(クラスタ)が組織内に不連続に分布することが不整脈を発生する条件であると仮定し、興奮伝播ダイナミクスを検討することでトリガー発生機序を明らかにする。不整脈を惹起するトリガー応答の発生は、クラスタサイズ、クラスタ間距離に依存して起こる可能性を見出した。
Publication related to your research
(Domestic conference/workshop)
Kunichika Tsumoto, Takao Shimamoto, Akira Amano, Yasutaka Kurata. Relations between early afterdepolarizations and ventricular lethal arrhythmias in long QT syndrome: a simulation study. 第67回日本不整脈心電学会学術集会、福岡国際会議場/福岡サンパレス、福岡市、July 2021.
津元国親、島本貴生、青地悠馬、天野晃、九田裕一、谷田守、倉田康孝. 心室不整脈トリガーの発生機序:シミュレーション研究. 第68回中部日本生理学会、金沢医科大学、内灘町、Oct 2021.
津元国親、島本貴生、青地悠馬、九田裕一、谷田守、天野晃、倉田康孝. Mechanisms of early afterdepolarization-mediated lethal arrhythmias in patients with long QT syndrome type II: an in silico study. 第95回日本薬理学会年会、福岡、福岡市、Mar 2022.
津元国親、島本貴生、青地悠馬、九田裕一、谷田守、天野晃、倉田康孝. Onset mechanisms of spiral wave reentry occurring in a long QT syndrome type 2 model: insights from a simulation study. 第99回日本生理学会大会、仙台、仙台市、Mar 2022.
津元国親. Breakups of excitation propagation in the heart: cardiac arrhythmias. ヒト心筋細胞の早期後脱分極応答に起因した不整脈トリガー:in silico研究. 第99回日本生理学会大会、仙台、仙台市、Mar 2022.
---
Posted : March 01,2022