CFD and machine learning on turbulent flow and multiphase flow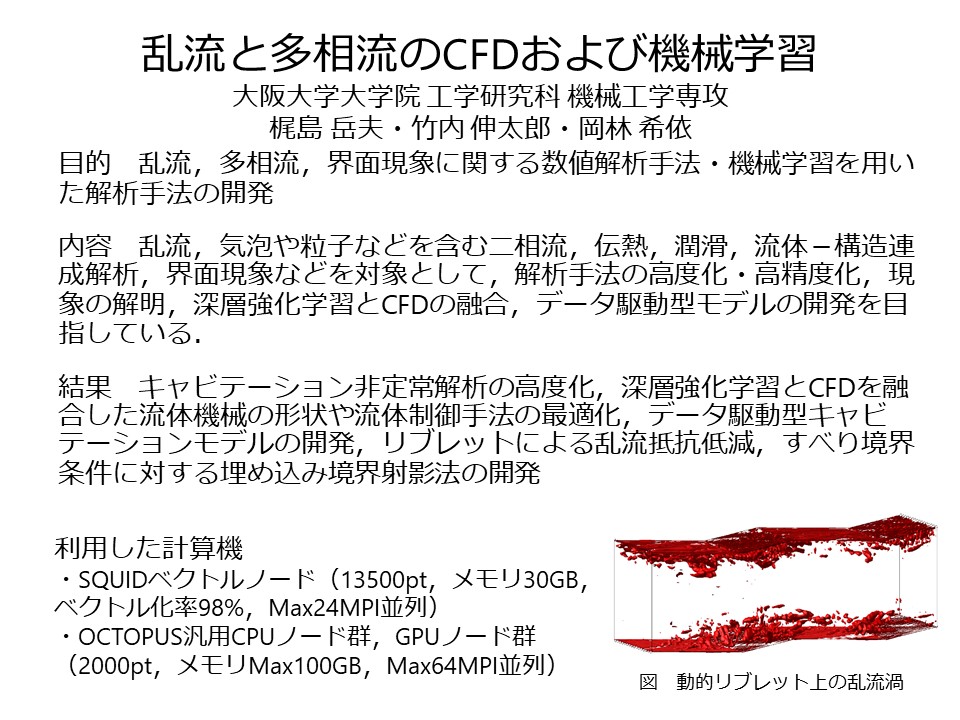 Authors:Takeo Kajishima, Shintaro Takeuchi, Kie Okabayashi
Affiliation:Dept. of Mechanical Engineering, Osaka University
Abstract:乱流,気泡や粒子などを含む二相流,伝熱,潤滑,流体-構造連成解析,界面現象などを対象として,解析手法の高度化・高精度化,現象の解明,深層強化学習とCFDの融合,データ駆動型モデルの開発を目指している.
Publication related to your research
(Journal paper)
岡林希依, "ミウラ折り型ジグザグリブレットによる摩擦抵抗低減の試み", ながれ, (日本流体力学会誌; 特集「境界層の摩擦抵抗低減技術」) Vol.40, No.4, pp.264-270, Aug. 2021.
岡林 希依, "キャビテーション流れに特化した乱流解析法", ターボ機械, Vol.49, No.11, pp. 656-666, Nov.2021.
(International conference paper)
Takehiro Fujii, Takeshi Omori, Takeo Kajishima, "Immersed Boundary Projection Method for the Incompressible Navier-Stokes Equation with Arbitrarily Shaped Navier Slip Boundaries", 25th International Congress of Theoretical and Applied Mechanics, Aug.2021.
Toshikazu Noda, Kie Okabayashi, Shintaro Takeuchi, Takeo Kajishima, "Application of Deep Reinforcement Learning and Transfer Learning for Optimization of Geometry Parameters of Corrugated Wing", Proc. of AIAA SciTech Forum 2022, AIAA-2022-0458, Jan. 2022
(Domestic conference/workshop)
野田 隼司, 岡林 希依, 竹内伸太郎, 梶島 岳夫, "深層強化学習を用いた折れ曲がり翼の形状パラメータ最適化の試み", 第53回流体力学講演会/第39回航空宇宙数値シミュレーション技術シンポジウム, 1B05, Jun.2021.
岡林 希依, 梶島 岳夫, "シートキャビティ周りの流線に基づくキャビテーションモデルによる翼周り流れの非定常解析", 日本混相流学会 混相流シンポジウム2021 講演論文集, E0115, Aug.2021.
岡林 希依, 梶島 岳夫, "乱流要素渦を考慮した翼回りキャビテーション乱流の非定常解析に関する研究", 第20回キャビテーションに関するシンポジウム, T1-7, Dec. 2021.
藤井 健博, 大森 健史, 梶島 岳夫, "滑り速度を有する境界に対する埋め込み境界射影法:境界力の分配演算子が満たすべき条件",第35回数値流体力学シンポジウム,B12-3,Dec.2021.
(Book)
梶島 岳夫, "流体工学の基礎", 森北出版, Apr. 2022.
(Etc)
Kie Okabayashi, Shintaro Takeuchi, Takeo Kajishima, "DNS on Effectiveness of Miura-fold-type Zigzag Riblet", 2021 Asia-Pacific International Symposium on Aerospace Technology (APISAT2021), Nov.2021. (Oral presentation)
---
Posted : March 01,2022