Development of a machine-learning force field for high-entropy alloy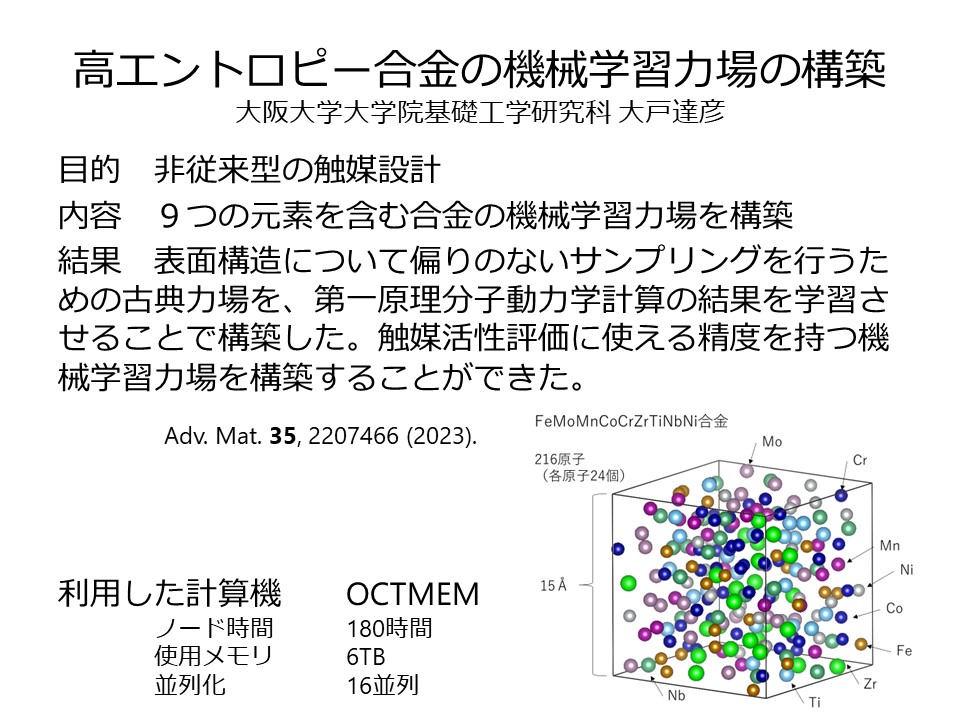 Authors:Tatsuhiko Ohto
Affiliation:Graduate School of Engineering Science, Osaka University
Abstract:9つの元素を含む高エントロピー合金の触媒活性を求めるための機械学習力場を構築した。密度汎関数法による分子動力学計算を行った上で、その結果をガウス過程回帰により学習させ、古典力場を生成した。その機械学習力場を用いた古典分子動力学計算から表面構造の候補をサンプルすることで、網羅的な触媒活性の評価を行った。
Publication related to your research:
(Journal paper)
Aimi A. H. Tajuddin, Mitsuru Wakisaka, Tatsuhiko Ohto, Yue Yu, Haruki Fukushima, Hisanori Tanimoto, Xiaoguang Li, Yoshitatsu Misu, Samuel Jeong, Jun-ichi Fujita, Hirokazu Tada, Takeshi Fujita, Masaki Takeguchi, Kaori Takano, Koji Matsuoka, Yasushi Sato, and Yoshikazu Ito
"Corrosion-resistant and high-entropic non-noble-metal electrodes for oxygen evolution in acidic media
Adv. Mater. 35, 2207466 (2023).
---
Posted : March 31,2023