Molecular dynamics simulation for thermal engineering at microscale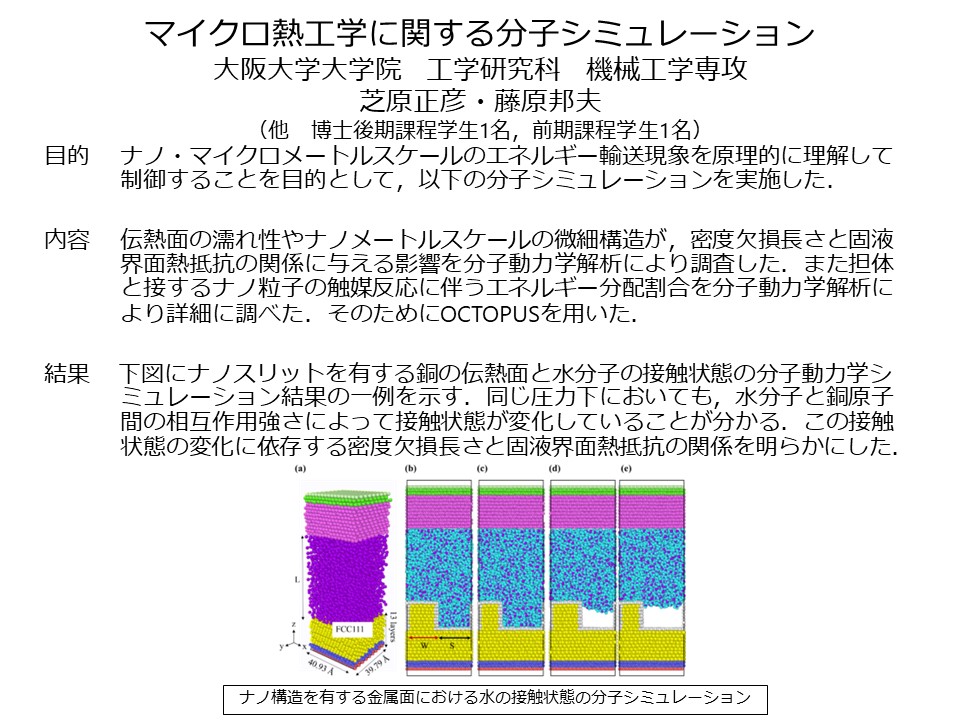 Authors:Masahiko Shibahara, Kunio Fujiwara
Affiliation:Osaka University, Graduate School of Engineering, Department of Mechanical Engineering
Abstract:ナノ・マイクロメートルスケールのエネルギー輸送現象を原理的に理解して制御することを目的として,伝熱面の濡れ性やナノメートルスケールの微細構造が密度欠損長さと固液界面熱抵抗の関係に与える影響を分子動力学解析により調査した.また担体と接するナノ粒子の触媒反応に伴うエネルギー分配割合を分子動力学解析により詳細に調べた.そのためにOCTOPUSを用いた.
Publication related to your research:
(Journal paper)
"Molecular Dynamics Study on the Relationship between Density Depletion Length and Interfacial Thermal Resistance at Nanostructured Surfaces", Z. Jiang, M. Shibahara, Heat Transf. Res., 54 (2023) 77.
"Molecular dynamics simulation of energy transfer in reaction process near supported nanoparticle catalyst", Y. Fujii, K. Fujiwara, S. Tsushima, M. Shibahara, J. Therm. Sci. Tech.,18-1 (2023), 22-00384.
(Domestic conference/wokrshop)
「界面付着触媒ナノ粒子近傍の反応過程におけるエネルギー分配に関する分子シミュレーション」,藤井祐作,藤原邦夫,津島将司,芝原正彦,第59回日本伝熱シンポジウム講演論文集,(2021) H123.
---
Posted : March 31,2023