Analysis of Intermolecular Interactions in Organic Molecular Crystals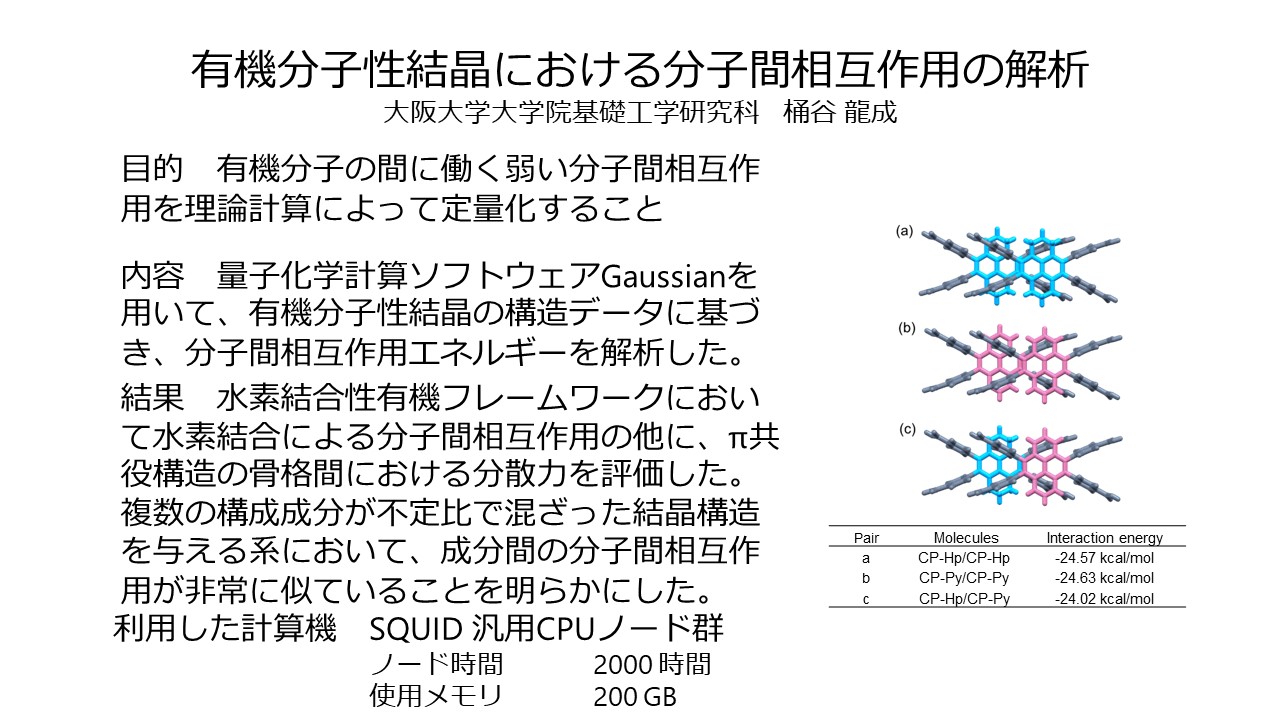 Authors:Ryusei OKETANI
Affiliation:Division of Chemistry, Graduate School of Engineering Science, Osaka University
Abstract:弱い分子間相互作用が支配的に働く有機分子性結晶中における分子間相互作用エネルギーを量子化学計算によって見積もり、その結晶構造を与える要因を探る。本年度の主な結果として、複数の成分が不定比で混ざり合う水素結合性有機フレームワークにおいて、成分間の分子間相互作用が非常に似ていることを明らかにした。
Publication related to your research:
(Journal paper)
Ryusei Oketani, Hiroki Takahashi, Simon Clevers, Akira Oyamada, Ichiro Hisaki, Gérard Coquerel, Kazuaki Yamanaka, Hirohito Tsue, Order−Disorder Phase Transition between High- and Low‑Z' Crystal Structures of the P1 Space Group. Cryst. Growth Des. 2022, 22, 2230-2238.
Mayu Kobayashi, Haruka Kubo, Ryusei Oketani, Ichiro Hisaki, Quinoxaline-annelated Hexadehydro[12]annulene: Use of A New Building Block to Construct a Hydrogen-bonded Hexagonal Molecular Network. CrystEngComm, 2022, 24, 5036-5040.
Taito Hashimoto, Ryusei Oketani, Masaki Nobuoka, Shu Seki, Ichiro Hisaki, Single Crystalline, Non-stoichiometric Cocrystals of Hydrogen-Bonded Organic Frameworks. Angew. Chem. Int. Ed. 2023, 62, e202215836
Yuto Suzuki, Mao Yamaguchi, Ryusei Oketani, Ichiro Hisaki, Isomeric Effect of Naphthyl Spacers on Structures and Properties of Isostructural Porous Crystalline Frameworks. Mater. Chem. Front. 2023, 7, 106-116.
---
Posted : March 31,2023