First principle studies on electrochemical CO2 reduction reactions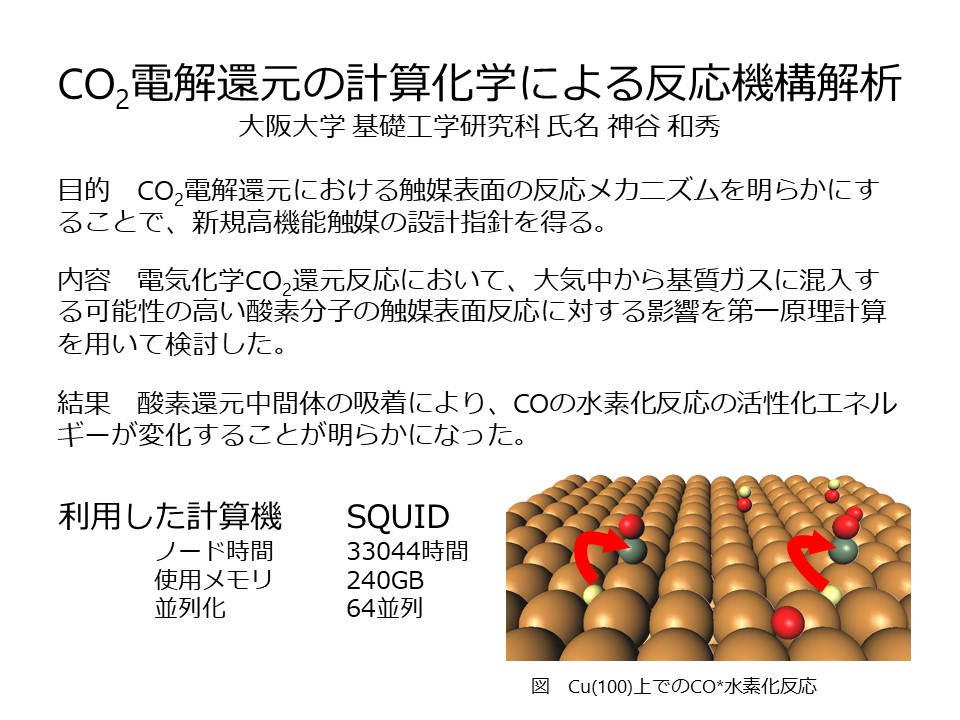 Authors:Kazuhide Kamiya
Affiliation:Research Center for Solar Energy Chemistry, Graduate School of Engineering, Osaka University.
Abstract:電気化学CO2還元反応において、大気中から基質ガスに混入する可能性の高い酸素分子の触媒表面反応に対する影響を第一原理計算を用いて検討した。その結果、酸素還元中間体の吸着により、COの水素化反応の活性化エネルギーが変化することが明らかになった。
Publication related to your research
(Journal paper)
J. Guan, T. Pal, K. Kamiya, N. Fukui, H. Maeda, T. Sato, H. Suzuki, O. Tomita, H. Nishihara, R. Abe, R. Sakamoto, "Two-Dimensional Metal–Organic Framework Acts as a Hydrogen Evolution Cocatalyst for Overall Photocatalytic Water Splitting" ACS Catal, vol.12, pp3881–3889, March 2020.
(Domestic conference/workshop)
加藤慎太郎, 橋本啄哉, 原田隆史, 中西周次, 神谷和秀 "金属担持有機構造体による高速CO2電解還元とその第一原理解析, 電気化学会第89回大会,オンライン開催, Mar 2022.
山本泰暉, 原田隆史, 中西周次, 神谷和秀 "亜鉛イオンを活性中心に有する人工炭酸脱水酵素の開発:理論計算化学からのアプローチ" 日本化学会 第102春季年会(2022),オンライン, Mar 2022
大橋圭太郎, 原田隆史, 神谷和秀, 中西周次, "単一銅原子触媒による一酸化炭素の選択電解還元とその第一原理解析", 電気化学会第89回大会, オンライン開催, Mar 2022.
---
Posted : May 18,2022