First principle studies on C-C bond formations in electrochemical CO2 reduction reactions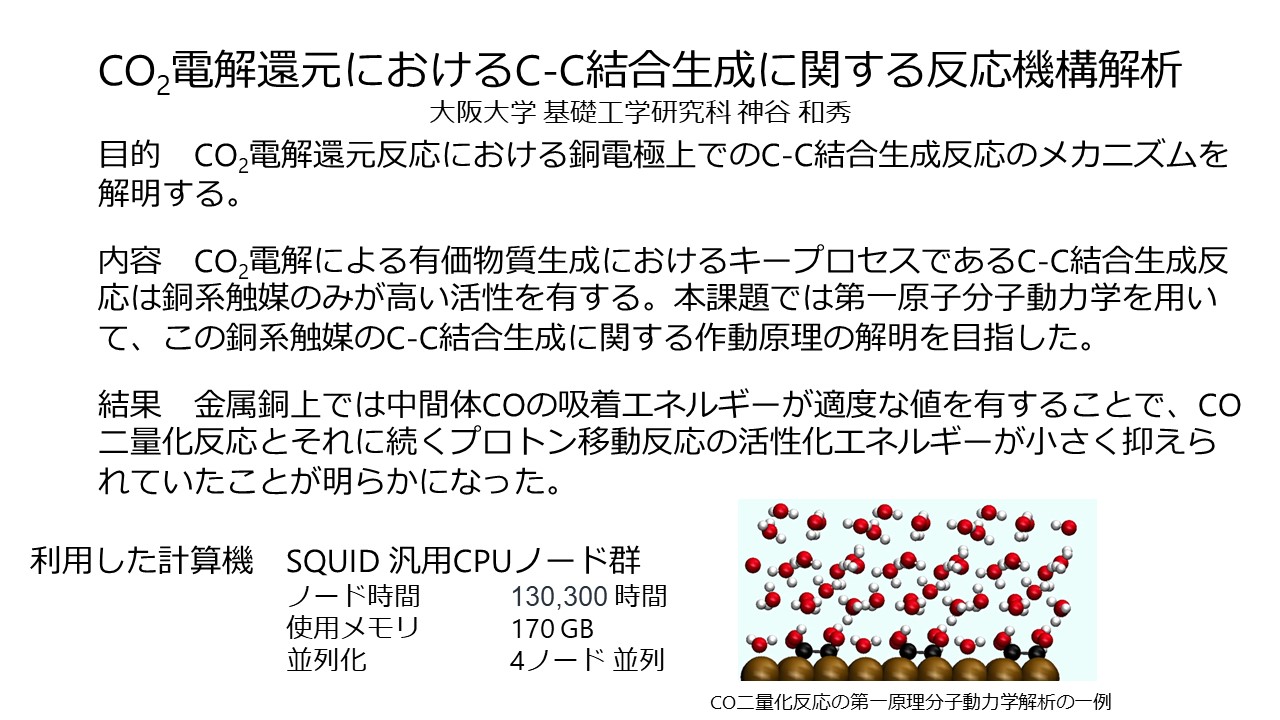 Authors:Kazuhide Kamiya
Affiliation:Research Center for Solar Energy Chemistry, Graduate School of Engineering, Osaka University
Abstract:CO2電解による有価物質生成におけるキープロセスであるC-C結合生成反応は銅系触媒のみが高い活性を有する。本課題では第一原子分子動力学を用いて、この銅系触媒のC-C結合生成に関する作動原理の解明を目指した。金属銅上では中間体COの吸着エネルギーが適度な値を有することで、CO二量化反応とそれに続くプロトン移動反応の活性化エネルギーが小さく抑えられていたことが明らかになった。

論文掲載,発表実績:
(Journal paper)
Liu, T.; Ohashi, K.; Nagita, K.; Harada, T.; Nakanishi, S.; Kamiya, K. "A Tin Oxide-Coated Copper Foam Hybridized with a Gas Diffusion Electrode for Efficient CO(2) Reduction to Formate with a Current Density Exceeding 1 A cm(-2)" Small Vol.18, No.50, December. 2022.
Shintaro Kato, Takuya Hashimoto, Kazuyuki Iwase, Takashi Harada, Shuji Nakanishi, Kazuhide Kamiya, "Selective and high-rate CO2 electroreduction by metal-doped covalent triazine frameworks: a computational and experimental hybrid approach", Chemical Science, Vol.14, pp. 613-620, Dec. 2022.
(Domestic conference/wokrshop)
大橋圭太郎, 原田隆史, 中西周次, 神谷和秀 "Electrocatalytic reduction of carbon monoxide to multicarbon products on copper-single atom catalysts" 日本化学会第103回春季年会, 東京理科大学野田キャンパス, Mar 2023.
名木田海都, 濱本 雄治, 神谷 和秀, 中西 周次, 森川 良忠, "Cu100面におけるCO水素化反応とO2還元反応の競合反応に対する理論的研究", 2022年 電気化学秋季大会,神奈川大学 みなとみらいキャンパス, Sep. 2022.
山本泰暉, 栗原諒, 原田隆史, 中西周次, 神谷和秀, "金属銅電極上でのCO2電解におけるCO二量化反応の第一原理分子動力学解析", 2022年 電気化学秋季大会,神奈川大学 みなとみらいキャンパス, Sep. 2022.
(Etc)
---
Posted : March 01,2023