Radiation Hydrodynamic Simulation Study on Laser-produced Plasmas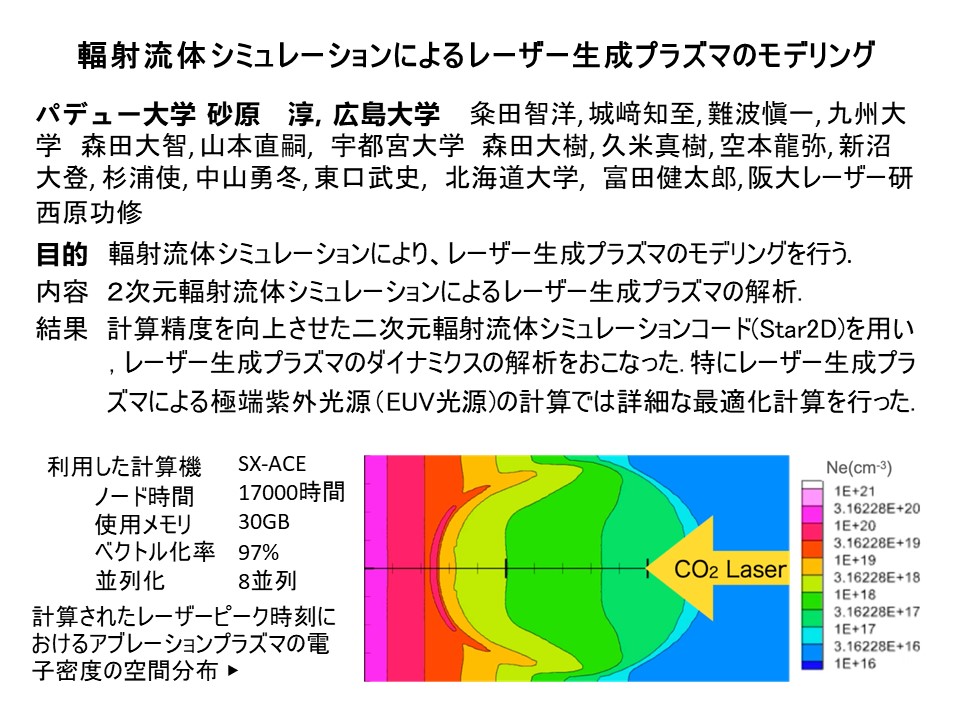 Authors:砂原淳¹, 粂田智洋², 城﨑知至², 難波愼一², 森田大智³, 山本直嗣³ , 森田大樹⁴, 久米真樹⁴, 空本龍弥⁴, 新沼大登⁴, 杉浦使⁴, 中山勇冬⁵, 東口武史⁴,富田健太郎⁶, 西原功修⁷
Affiliation:School of Nuclear Engineering, Purdue University¹, Graduate School of Advanced Science and Engineering, Hiroshima University², Interdisciplinary Graduate School of Engineering Sciences, Kyushu University³, School of Engineering, Utsunomiya University⁴, Graduate School of Regional Development and Creativity, Utsunomiya University⁵, Faculty of Engineering, Hokkaido University⁶, Institute of Laser Engineering, Osaka University⁷
Abstract:我々の研究目的は輻射流体シミュレーションにより、レーザー生成プラズマのモデリングを行うことにある。レーザー生成プラズマは幅広い分野で使われており、我々が計算対象とするのはレーザー核融合、レーザープラズマ光源(極端紫外光源)、レーザー核融合ロケットの磁気スラスター、レーザーアブレーション加工等である。これらを研究する日本の各大学と共同研究を行い、輻射流体シミュレーションと実験結果を比較し、実験のモデリングのみならず、レーザー生成プラズマの学理を明らかにする。また、シミュレーションの計算精度を実験結果との比較から確認し、輻射流体コード開発に活かす。本年度、2次元輻射流体シミュレーションの計算精度向上を図ると共に、実験で観測される複雑なレーザー生成プラズマのダイナミクスを解析した。
Publication related to your research:
(Journal paper)
T. Ozaki, Y. Abe, Y. Arikawa, Y. Sentoku, J. Kawanaka, S. Tokita, N. Miyanaga, T. Jitsuno, Y. Nakata, K. Tsubakimoto, A. Sunahara, T. Johzaki, E. Miura, O. Komeda, A. Iwamoto, H. Sakagami, S. Okihara, K. Ishii, R. Hanayama, Y. Mori, and Y. Kitagawa, "Hot electron and ion spectra on blow-off plasma free target in GXII-LFEX direct fast ignition experiment", Nuclear Fusion 63 (2023) 036009.
Jiahao Wang, Maki Kishimoto, Tomoyuki Johzaki, Tomohiro Kumeda, Takeshi Higashiguchi, Atsushi Sunahara, Hikari Ohiro, Kotaaro Yamasaki, and Shinichi Namba, "Water-window X-ray emission from laser-produced Au-plasma under the optimal target thickness and focus conditions", Atoms 10 (2022) 150.
Yiming Pan, Kentaro Tomita, Yukihiko Yamagata, Atsushi Sunahara, and Katsunobu Nishihara, "Investigation of dynamics of laser-produced carbon plasma during the laser irradiation using Thomson scattering", Journal of Physics D 56 (2022) 025201(15pp).
(International conference paper)
Atsushi Sunahara, "Pre-pulse-shape control for efficient laser ion acceleration" , at 6th Asia-Pacific Conference on Plasma Physics on-line e-Conference, Topical invited talk, October 9-14, 2022.
---
Posted : March 31,2023